Guerilla Media – Strikingly different … outrageously good!
You've had enough of classic advertising campaigns off the rack? Enough of uninspired advertising tools?

Let's hold the breath and jump out of the line: Our guerrilla marketing tools rely on the element of surprise. Outdoor advertising with guerilla media from inovisco is cheeky, funny and original. Anything is allowed that attracts attention!
The "Wow" moment within your target group guarantees attentiveness for your brand message. We do the unexpected and place the ads within the living environment of your target group: CarCards for drivers, BikeCards and BikeCaps for cyclists, road graffiti or removable stickers in pedestrian zones, large projections or mobile projections with a handheld beamer for lightning up your message in the nightlife – we have the right solution to address every target group.
An overview of our guerilla media:
GuerillaBalloons
We print helium balloons with your logo and distribute them in the inner city or on events. We recommend combining the printed balloons with flyers tied to the bottom of the string. The flyers can contain further product information, vouchers or discount coupons.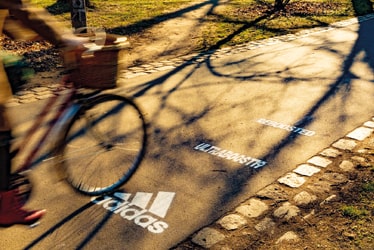 ChalkStencils
With chalk stencils sidewalks, squares and pedestrian zones can become unusual advertising spaces for your brand messages. We spray your chalk advertisement in bright color directly onto the paving stones and asphalt – naturally with stencils and a chalk that is 100 percent biodegradable.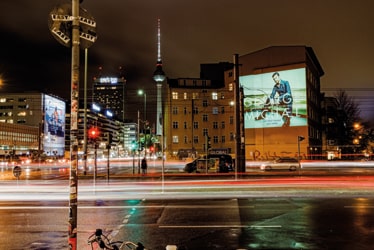 Digital Giant Poster
Big, bigger, huge: the digital giant poster ensures a great attention within your target group. A large screen projection is being used for presenting your advertisement as image, video or slide show on any suitable wall.
BikeCards / DoorCards
They are dangled on bicycles or doors, the BikeCards or DoorCards. Whether at selected locations, such as universities, student residences, train stations and cafes, or simply throughout the whole city: distributing these cards you have a high target group range because every single contact takes the card at least once into his hands.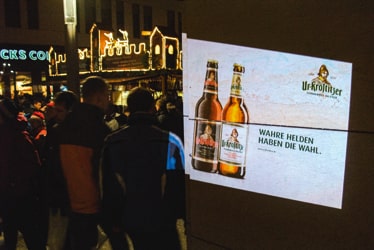 BeamerMan
Equipped with a mobile projector the BeamerMan walks through pedestrian zones, positions himself in front of trendy pubs or in front of an event location. Here he beams your commercial as a light projection with strong luminosity on every possible advertising space – on doors, house walls, stairs, roller shutters or sidewalks – right in the middle of where your target group is.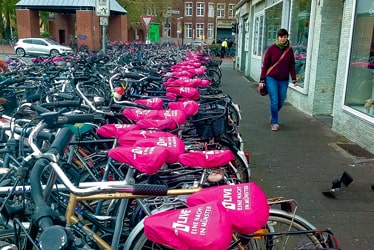 BikeCaps
Bicycle saddle advertising with BikeCaps combines the useful with the beautiful: BikeCaps protect bicycle saddles on wet days and offer an eye-catching advertising surface. Because they are useful, they are liked by cyclists and are often reused. Your advertisement will therefore be taken trough the city on a long term.
CarCards
CarCards are individually designed advertising cards with a creative design in funny shapes. The cards can be attached to car windows with a suction cup. As a charming eye-catcher they swing at the car windows on parking spaces or are driven through the city traffic.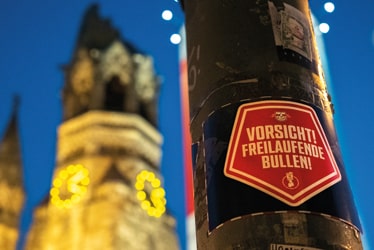 Stixx
They stick on almost every surface: Stixx can be placed on cars, bus stops, lanterns, park benches or front doors – the removable stickers are made of electrostatically charged foils. They can be easily taken off after your campaign without leaving any residue.