Promotion Marketing: Creative communication campaigns with experienced promoters
inovisco customizes the promotion exactly according to your needs and around your brand message. Our promoters get in contact with your target group – directly at the touchpoint. Their friendly advisement convinces customers of your brand. Your advertising message will therefore be memorized for a long time in the future.
Besides the flyer distribution, we can provide for our promoters advertising backpacks, helium balloons, portable banners or 18/1 posters on rolls to make your promotion campaign a great success. Our promoters have long term experiences and will realize your requests in a reliable manner.
Our promotion media at a glance:
Mobile Coffee Cart
Want to surprise your guests with free coffee? With the mobile coffee cart we make sure that your target group not only remembers the tasty drinks, but above all your brand and advertising message by designing the vehicle in your corporate design.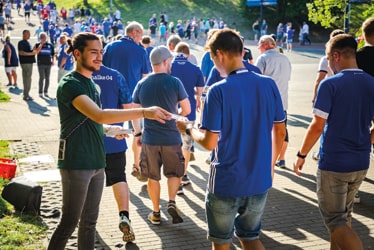 Promotional Activities
Whether flyers, samples, giveaways, flowers or balloons. Our promoters take your advertising message to the people. At trade fairs or in pedestrian zones – our well instructed staff will help to transport your brand message with a positive and lasting impression.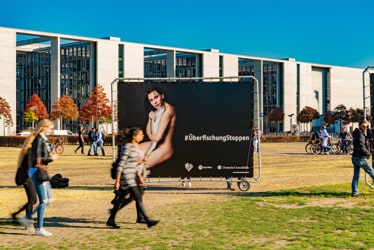 PromoWall
Always wanted to be independent of permanent advertising billboard areas? The PromoWall is a billboard on rolls. With this technique large billboards (format 18/1) can be placed where you never find them otherwise. The PromoWall finds its way right to your target group where ever the group goes.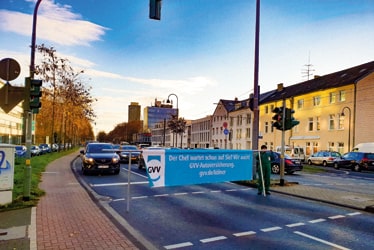 RunningBanner
Unlike a common advertising banner the running banner shows up right in front of the eyes of your target group. This extraordinary mobile advertising banner with your brand message on 4 m² is carried by two promoters in pedestrian zones or over traffic crossroads.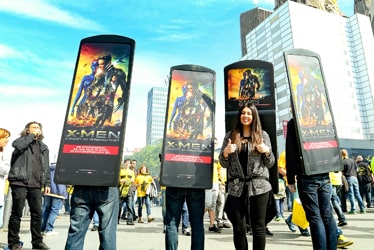 MovingBoard
Promoters carry your advertisement right to your target group at highly requested locations such as train stations, trade fairs or shopping centers. Your message will be taken to the people with a double-sided and illuminated MovingBoard.
PhotoBox
Photo cabins attract people magically – with a fully branded photo box visitors of events or passers-by in the inner city are guided to your promotion area. Here you give your target group the opportunity to capture a memory while the photo printout as personal giveaway will remind the consumer for a longtime in the future at your advertising message.
AirBall
The helium balloons can be seen on a long distance as they float above the heads of the pedestrians. The use of helium balloon advertising is especially recommended in pedestrian zones and highly frequented inner cities.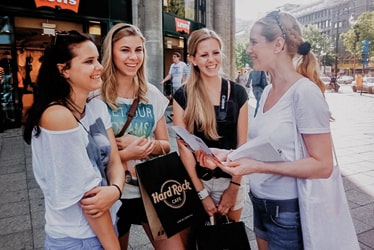 Advertising Material/Giveaways
Together we will find the right ambient and promotion advertising tools and giveaway material for your target group and implement your promotion campaign successfully.